A Haworth workplace study revealed that 79% of organizations have a hybrid work program in place, with an additional 8% considering one. Even with that many defined programs, organizations are still asking, "How do we get people back in the office?"
Well, it's complicated.
There are many variables at play: organizational culture, return-to-office mandates, purpose and performance of the office, communication pathways, employee preferences, and organizational needs—that's just to name a few. The key lies in understanding where we've been, embracing the resulting new reality, and supporting people with empathy and trust.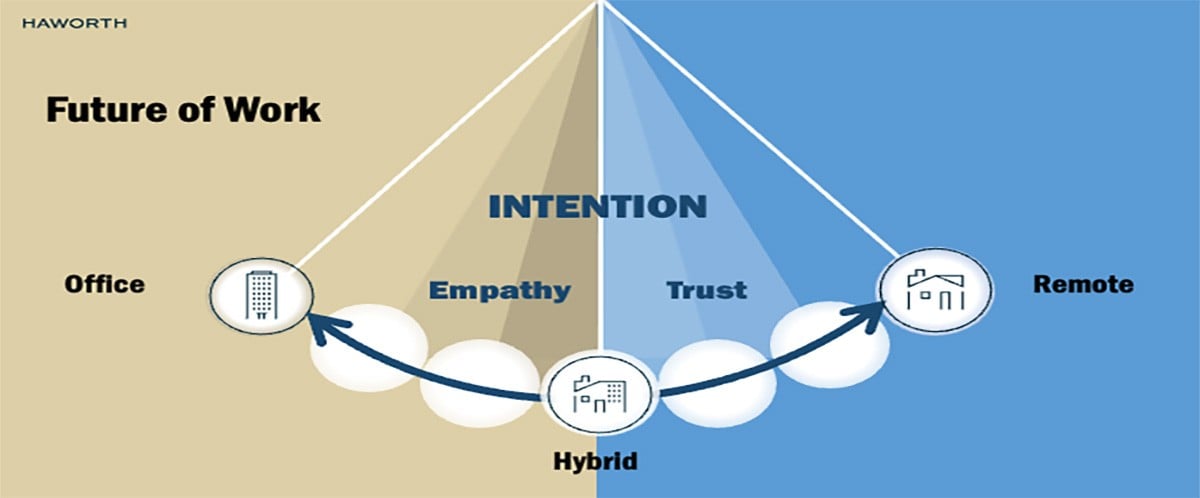 Hybrid Work Isn't New
"Hybrid work" offers people autonomy and flexibility to work across an ecosystem of in-office, home, and third places. The terminology may be new, but companies have experimented with work flexibility for decades. As early as the 1970s, remote work has been considered as a solution for environmental, economic, and other issues. In 2012, even the federal government was outlining "telework" programs, which would allow their employees to work from home, so departments and agencies could reduce their real estate footprint to save money.
"Work is what you do, not where you do it."
Barack Obama, President of the United States
2010 White House Forum on Workplace Flexibility
How Hybrid Got Its Wings
Fast-forward to more recent times. The economy was thriving in 2019, and unemployment was low. There was a personal downside, though: People were overworked and stressed. So much so that the World Health Organization included burnout in its International Classification of Diseases as an occupational phenomenon. This prompted employers to take a more serious look at the physical and mental well-being of their employees.
Just as organizations were beginning to take action to reduce stress and burnout at work came the onset of the COVID-19 pandemic—with stressors of its own. Life and work as we knew it changed overnight. And within just a few months, everything was onscreen: scheduled meetings, informal touch-base meetings, learning, happy hours, game nights, family dinners—literally everything. Companies had to completely shift how they do business, creating a technology and process infrastructure to support their people working from home. It was out of this necessity that we began our journey toward hybrid work models of today.
Shifts in the Economy and Employment
Those were trying times, but they also led people to reexamine what is most important in their lives, as they developed new habits to support how, where, and when they worked. Many took the opportunity to make a change—leaving jobs that had long been stressful, unfulfilling, or didn't align with their interests or values.
Searching for something more from their employers—or quitting work altogether—about 50.5 million people voluntarily left their jobs in 2022, beating out the 47.8 million in 2021. This left a wake of open positions needing to be filled. Competition spurred employers to raise wages at their fastest pace in decades—especially for new hires who had switched jobs—while remote work expanded opportunities from local to national markets. We had clearly entered what is known as an employees' job market.
Pandemic-induced supply chain disruptions drove inflation at unprecedented rate. To slow the economy, the US Federal Reserve has raised interest rates multiple times. With each hike came market uncertainty, lower corporate earnings, and new layoffs—especially in the technology sector. We're starting to shift back toward an employers' market.
These shifts in the economy, power in the job market, new work habits, and changes in employment have all caused trust issues to be exposed on both sides. Employees are now questioning, "Will I be laid off?" and "Will I have to go back to the office?" In the meantime, employers are asking, "If I make place changes will employees come back to the office?" and "How do I know if employees are working?"
Empathy Is Foundational During Times of Uncertainty
With both sides feeling vulnerable, it's acutely important that leaders use empathy when seeking to understand employee needs before making critical changes to policy. This helps ensure open communication, as organizations express the "why" behind the decisions that affect people today and into the future.
It is also important to recognize that change doesn't happen overnight, and strategies don't always roll out smoothly. Empathetic leaders show their people they understand we are all part of the world's largest hybrid work experiment, and additional changes may be needed. It's easier for people to accept future change if leaders acknowledge they may not have everything perfected but are actively working toward the best solution possible.
Engagement Requires Trust
According to a Gallup study, employee engagement in the US saw its first annual decline in 2020, and it has dropped each year since—from 36% to 32%. At the same time, active disengagement has grown from 14% to 18%. The following engagement elements have declined the most:
Clarity of expectations
Connection to the mission or purpose of the company
Opportunities to learn and grow
Opportunities to do what employees do best
Feeling cared about at work
These are all items that require empathy and intentional actions from leadership. Business runs on relationships, and relationships run on trust and understanding. Leaders must trust that their employees are doing their best work, no matter where they are. When that trust is apparent, employees can then trust that leaders—and by default, the organization—have considered their needs, particularly when they enact hybrid work policies.
The Mandate Trap
For the last few years, we have all witnessed a monumental shift in traditional workforce dynamics. We discovered that we could work in multiple locations: at home, in the office, and third places. Each has its benefits for different types of work activities. For this reason, hybrid has become the new way of working. But not everyone is convinced that these changes will stand the test of time.
Headlines reporting return-to-workplace mandates—and the vocal disapproval of employees—at some big companies like Starbucks, Disney, and Tesla have gone viral. Why are so many companies willing to trade in extended flexibility for a more typical workday?
Haworth's research revealed that leadership is overwhelmed with information and it's hard for them to know what advice to follow. This can lead to confusion about how to best structure, organize, and build policy around remote and hybrid work. Without a clear understanding, many organizations seem to be holding onto the familiar "seeing-is-believing" leadership style—assuming that employees are working only if they can be seen in the office. Mandates may bring people into the office, but they don't work to build trust and engagement. Good people may start looking elsewhere for work.
So, Where Do We Go from Here?
Studies have shown that hybrid work is here to stay, but so is the office—taking on a new role as an organization's hybrid hub. The office needs to support connection and collaboration, while providing focus and restore spaces. Future-thinking organizations that adopt this new working environment will need to fundamentally change not only their technologies and spaces, but also their culture and practices to build and maintain employee trust. The level of change required to make it work in the long term is variable, but based on real questions—and their responses:
Why do we do what we do? – Define the organization's core purpose
How could we best do it? – Develop processes to support the purpose
What needs to change in our workplace? – Implement space changes that support our purpose and process
With these questions clearly answered—using the filters of culture, empathy, and trust—organizations will have the strong position they need to develop and communicate hybrid work policies for the future of work that focus on people, purpose, process, and place. This linkage will drive success now and make for a less reactionary and more resilient future.
More on Hybrid Work Policies & Environments
Create an engaging, high-performing office hub as part of your hybrid work from anywhere ecosystem.