The fossil energy we use to power machines that extract, transport, and process the raw materials we need for business is now in short supply. Oil, coal, and gas, which account for 75% of energy production, passed their peak production several years ago—and it's past time for change.
Minimizing Our Impact
At Haworth, we are committed to making change in our industry that makes the world better. Through our sustainability programs, we want to reduce the amount of waste and extend the life of our products through recycling and reuse. This business model engages everyone in our global company, including people with roles in quality assurance, purchasing, data management, logistics, facilities, sales, marketing, and communication.

In line with our company's extensive commitment to limiting the use of Earth's natural resources, Haworth France is pursuing two specific sustainability initiatives:
Use as much as possible of the materials that have already been processed and can be reused.
Give a second life to our products rather than discarding them.
Valdelia
In 2011, Haworth France contributed to the creation of Valdelia, an eco-organization approved by the French Ministry of Ecological and Sustainable Transition. Its first action was to organize the recycling of office furniture by setting up collection centers on a national scale for the materials used by our industry: wood, steel, aluminum, and plastic.
In 2021, over 325 tons of furniture waste were collected by Valdelia, but less than 2% of the furniture collected was reused.

Giving Zody Chairs a Second Life
In March 2021, the French government published a decree requiring public procurement to include at least 20% of furniture from reuse, recycling, or incorporating recycled materials.

By joining the Emmaüs Movement and partnering with Label Emmaüs to refurbish used furniture, Haworth aims to promote a new sustainable purchasing method for companies by giving a second life to products that are still usable. With our Zody office chair being a best-seller since its launch in 2003, there are now tens of thousands in use throughout France. And thanks to its durable design, efficient mechanism, and high-quality materials, Zody often outlasts its new chair warranty period by several years. This offers a large stock seating available for reuse when the time comes for owners to renovate their spaces.

Created according to a Cradle to Cradle design approach, Zody contains up to 31% recycled materials and is 99% recyclable. It is GREENGUARD GOLD certified, ensuring lower VOC emissions for improved indoor air quality. Zody also contributes to LEED and WELL Building Standard certification credits. By reconditioning one single chair, we avoid approximately 40–50 lbs. of waste.

Throughout France, we can now offer a range of quality reconditioned chairs with a 2-year warranty and traceability. Thus, we support our customers in their corporate sustainability programs and strategy, and we meet the requirements of public procurement contracts for reused products. Fed Groupe, a major player in the recruitment industry, is our first customer in Paris to commit to ordering the Zody chairs refurbished by Label Emmaüs.
What Every Leader Needs to Know About Reactivating Their Office Space
Learn more by downloading the Work From Anywhere white paper.DOWNLOAD THE WHITE PAPER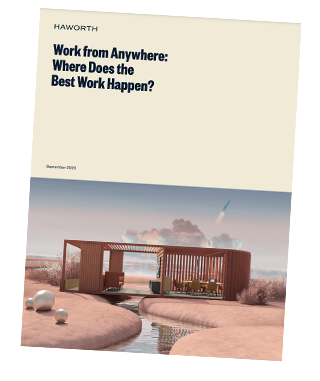 The 8 Stages in Reconditioning Zody Chairs
Haworth picks up the used office chairs and ships them to the Label Emmaüs team at Plateform 47 in Damazan, where we have supplied all the necessary spare parts and tools for their reconditioning. Then, the chairs will either be taken back by their owners or transferred back to us for reintroduction into the market by both Label Emmaüs and Haworth. Haworth sales members and dealers can use an app to trace the Zody stock and offer customers products that comply with France's new regulations.

Many customers also request that we take their old office furniture. The leading French railway company has called on us to collect 3,500 used workstations. For these products, which are large in volume, Label Emmaüs partners with Aima, an organization committed to developing the reuse of professional equipment, by offering logistical resources to supply a network of local and international buyers.

Learning and Professional Inclusion
In addition to eco-responsible reuse and the promise of a second life for our products, Haworth, Label Emmaüs, and Atelier Emmaüs are committed to putting people at the center of a social project against exclusion.

Label Emmaüs Plateforme 47 was created in 2021 in Damazan with the support of the local authorities and the Emmaüs Movement. They support a team of five employees on inclusion programs, providing them with comprehensive training in logistics and digital technology. Plateforme 47 aims to hire around 20 people by 2023 and enable them to develop the skills of an "Ecommerce Valorist." The training is complemented by individual support in building a professional project to ensure their long-term success in the future.
"A Second Life for Objects, A Second Chance for People"
This has been the Emmaüs Movement motto for over 70 years—and the Label Emmaüs organization has embodied this adage in all the projects they have carried out since their founding in July 2016. They have been sharing the global Emmaüs Movement's struggles on the web to champion inclusive and sustainable ecommerce.

Today, Label Emmaüs represents more than 160 online shops throughout France. They have also helped provide ecommerce training for 900 people and increased their local impact with the opening of logistic platforms dedicated to the reuse of specific products.

Craftsmanship and Design Serving People and the Planet
Founded in 2017 in Lyon, Atelier Emmaüs is a woodworking and design company at the crossroads of two worlds: contemporary design and craftsmanship, and the fight against social exclusion. Atelier Emmaüs aims to reuse materials while giving value to people.

As apprentices, all people are welcomed and guided in projects to learn carpentry, woodworking, craftsmanship, design, and manufacturing. The resulting projects showcase their new skills and give them pride in a job well done. Atelier Emmaüs also uses discarded wood, including panels from furniture industry, offcuts from roofing or stages, Emmaüs furniture scraps, and even doors and window jambs taken from deconstruction sites.

Haworth made its commitment clear by entrusting the Atelier Emmaüs with the fitting out of our Paris showroom.